Tythe
A subscription donation service for supporting expert-curated collections of high impact charities with a single monthly payment.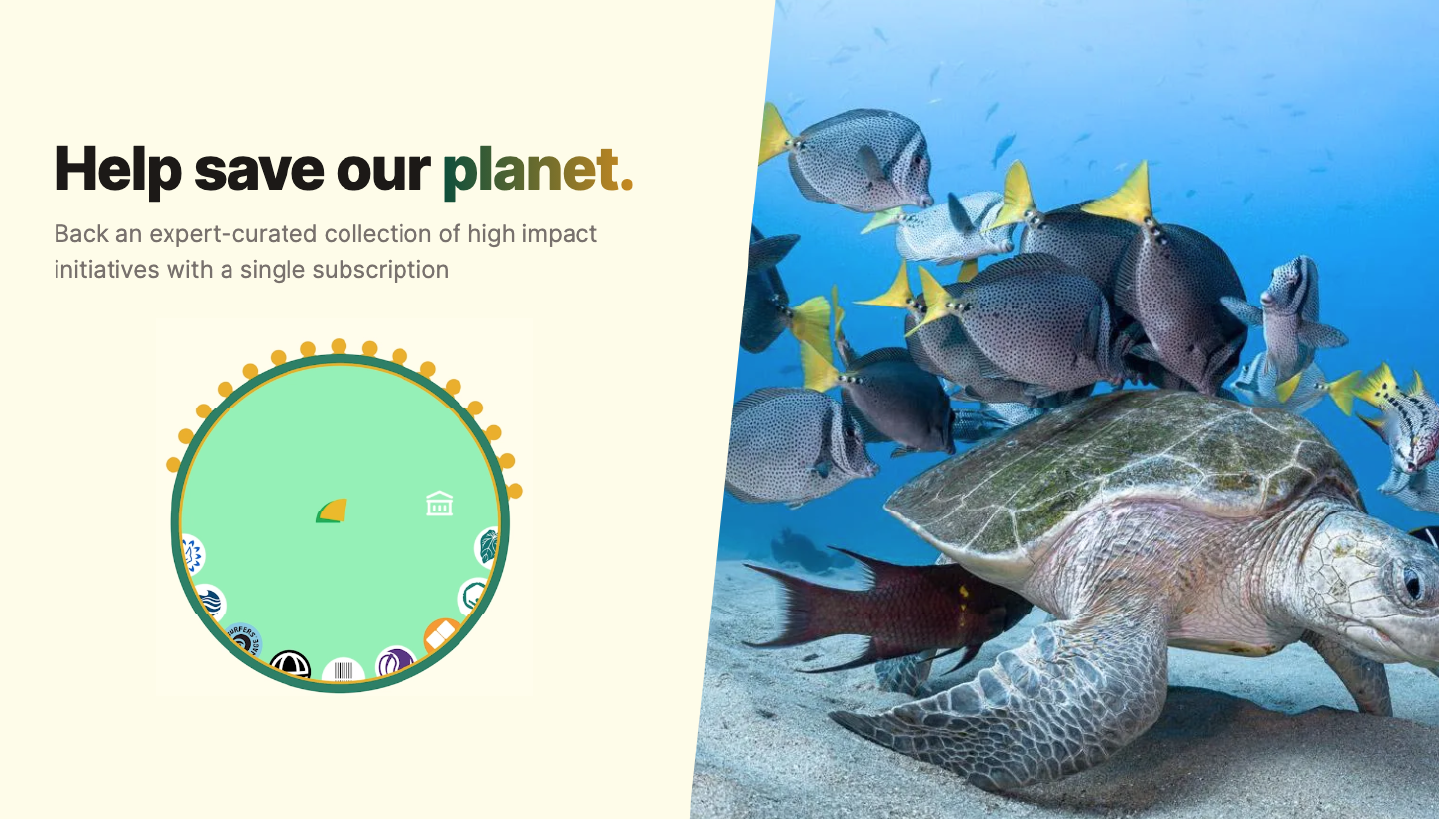 Better Giving Studio identified this concept through the 2020 Reimagine Charitable Giving Challenge, an open innovation component of the program which sourced nearly 400 digital giving products and concepts. The concept summary below is inspired by and derived from the Challenge entry submitted to the Challenge. 
Why BGS is Excited:
Donors receive tangible information about the impact of their donations in metrics specifically relating to climate change, such as the amount of CO2 emissions averted.
The service reduces the complexity of giving by curating a list of vetted charities, providing information on the selection process, and including set-it-and-forget-it functionality using a subscription model.
The Opportunity
Only half of the UK population (48%) say they believe nonprofits to be trustworthy. And while 5% of donors said they care about the effectiveness of nonprofits, only 3% donate based on the relative performance of a nonprofit. Three barriers are keeping UK citizens from proactively donating to causes they care about and want to support:
Choice overload: People know which causes they care about, but it takes a lot of time and research to understand which of the 200,000 nonprofits in the UK tackle issues related to those causes most effectively.
Payment paralysis: Even after identifying nonprofits, people rarely have the time or motivation to make a proactive donation. As a result, payments they do make are often sporadic and impulsive rather than routine and considered.
Uninspiring feedback: Donors appreciate honesty and data on tangible outputs. But too often donors feel they're being over-solicited, or that they only receive generic thank yous and PR, sometimes in outdated formats like direct mail.
The Concept
Tythe is a subscription donation service which aims to help donors regularly support the causes they care about by providing expert-curated collections of high impact nonprofits specifically focused on environmental sustainability.
Donors using Tythe's mobile app can access curated, themed collections of nonprofits, aka "GiveLists." Right now, Tythe has selected 9 effective charities with demonstrable impact related to tackling environmental crises. Tythe performs detailed research and impact evaluation for each recommended nonprofit using CharityBase, an open data project founded by a Tythe co-founder, which makes sense of large amounts of data from 170,000 nonprofits.
Donors can continuously support all charities within a collection with a single subscription donation. Each month Tythe aggregates payments from individual donors and re-grants them to the relevant charities. Tythe's initial subscription plan comes in at £7.99 / month, which is split entirely between charities in the Environment collection. In the future, other price points will be introduced, including an income percentage calculator. Tythe also offers 1:1 donor matching, initially funded internally but ultimately funded by partnerships with philanthropists and corporations.
Tythe shows donors their projected impact over the next year in the form of tangible outputs, e.g. KGs of CO2 emissions averted. Tythe calculates the numbers using financial data and impact reports to derive the expected output per £1 donated, taking into account charity overheads.
Tythe targets the 10 million UK taxpayers who earn £25-99k and who already donate at least occasionally. Marketing initially focuses on the younger cohort, who are users of social media and are familiar with online subscription services such as Netflix & Spotify. The typical donor is someone who cares about social & environmental issues, and in theory wants to help tackle them. In practice however, their donations are sporadic and usually made on emotional impulse or the suggestion of a friend. They may be among the 20% of UK adults who already make regular planned donations but want an easier way to manage their recurring payments.