One More Step
Providing givers with relevant opportunities to deepen their engagement and help power better personalization.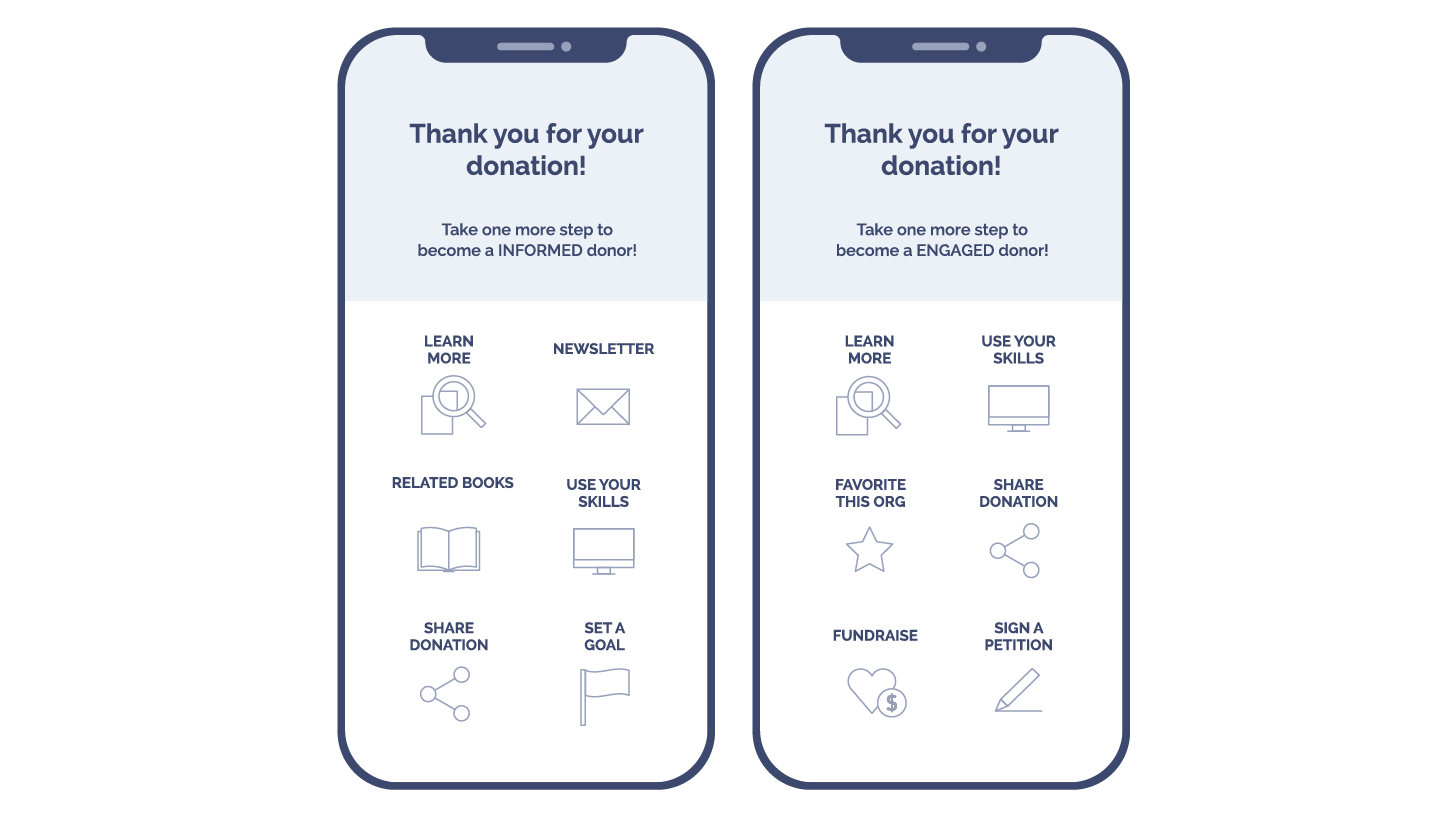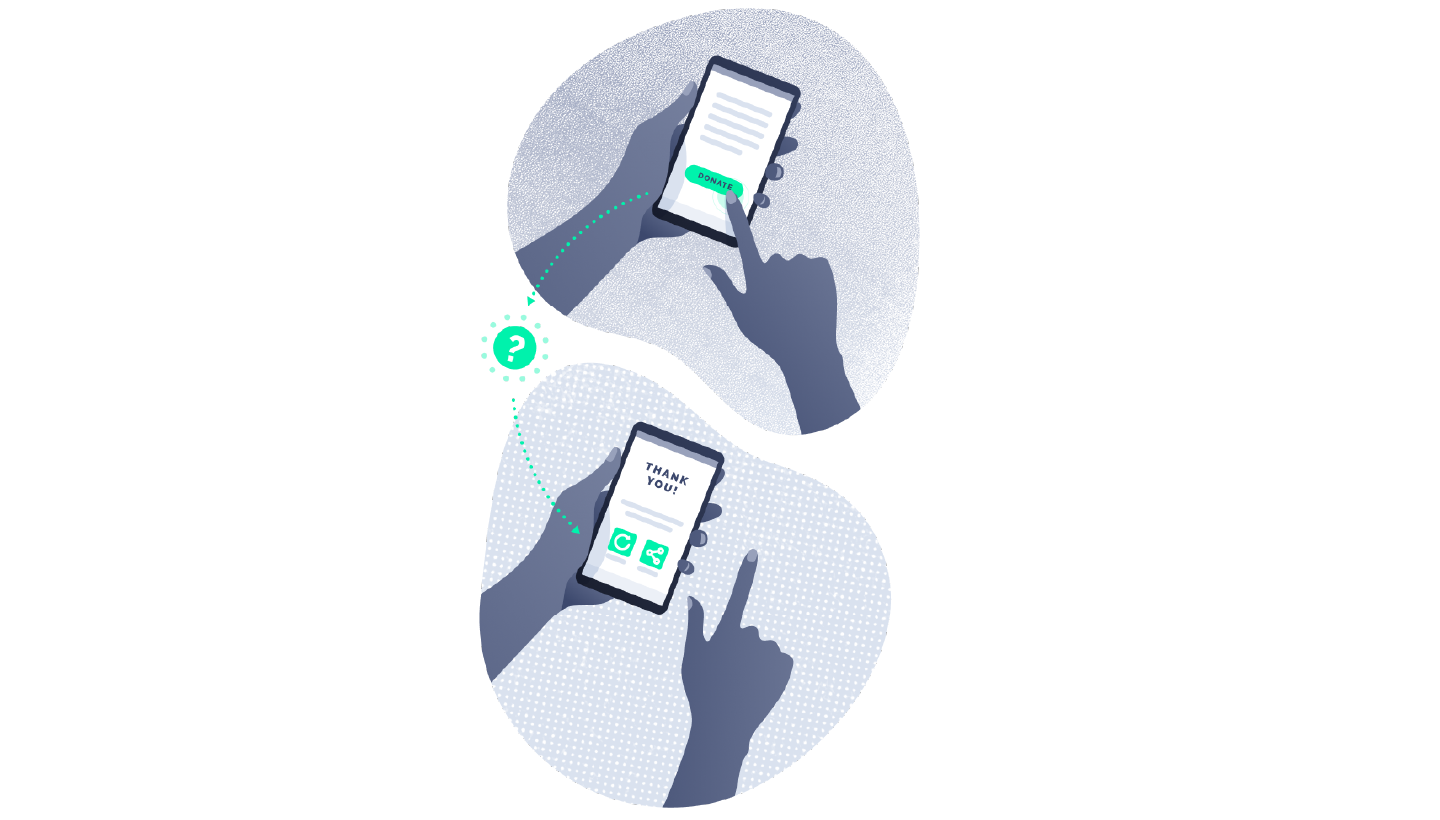 Better Giving Studio developed this concept during a product sprint led by Intentional Futures, which focused on leveraging giving research and translating it into high level product concepts.
The Opportunity
The giving ecosystem is extremely fragmented. Over the course of a year, a typical donor might use a workplace giving platform to receive a match for a donation, a social network to give to a friend's fundraiser, and a mobile payment platform to donate at a local bake sale. Each of those platforms might only get that one signal from the donor—a one-time donation to a specific charity.
Making a donation is a clear indication that a user has been motivated to take a charitable action. Ideally, platforms would offer personalized options for further engagement based on a donor's interests and activity. However it's very difficult to interpret the donor's level of engagement with the cause, the specific charity, the solicitor, or the moment of inspiration for the donation, from a one-time signal. Without that level of personalization, platforms are limited in their follow up offerings to donors, which typically involve an ask to donate to the same cause again or to share their donation on social media.
One More Step provides more meaningful and relevant next steps that can be surfaced for donors at this moment of action.
The Concept
In the absence of robust data on which to base personalization, One More Step would offer donors a menu of possible next steps in the post-donation moment. Surfacing these actions would give donors a specific plan for action to take at a moment of heightened awareness. This aligns with research in the health field that shows that once someone has been primed to respond favorably toward an idea, providing them with a specific plan of action for next steps increased their likelihood of following through on the action.
The program would work like this: After completing a first donation, users would receive a thank you message in combination with a menu of specific action steps to take. The call to action would allow the user to classify themself as an active or engaged donor, and also emphasize the minimal extra effort required to make an impact. Research has shown that legitimizing small favors, but not requesting them directly, can increase the likelihood of someone taking a charitable action.
Possible action steps might include signing relevant petitions, finding additional resources to learn more about the cause area, or identifying volunteer opportunities. Action steps could also be included to tease out the intentions of the initial donation. For example: the donor's level of interest in the particular organization ("Favorite this organization"), the cause in general ("learn more about this cause"), or merely the act of donation ("set a giving goal").
The data gathered from a donor's interactions with the "One More Step" module could help refine and improve the quality of options surfaced over time. And it would enable better personalization even with periodic interactions with the platform. It would also give the platform clarity on a donor's true area of interest.
This concept may be adopted, remixed, or used as inspiration for your own innovation efforts, by following these attribution guidelines.
Explore Further
Use This Concept
This concept can be adopted, remixed, or used as inspiration for your own innovation efforts. Follow the Creative Commons guidelines below.
Creative Commons Guidelines