More Mindful Marketplaces
Build a donation feature into multi-sided marketplaces so that creators, renters & vendors can raise money for causes they care about.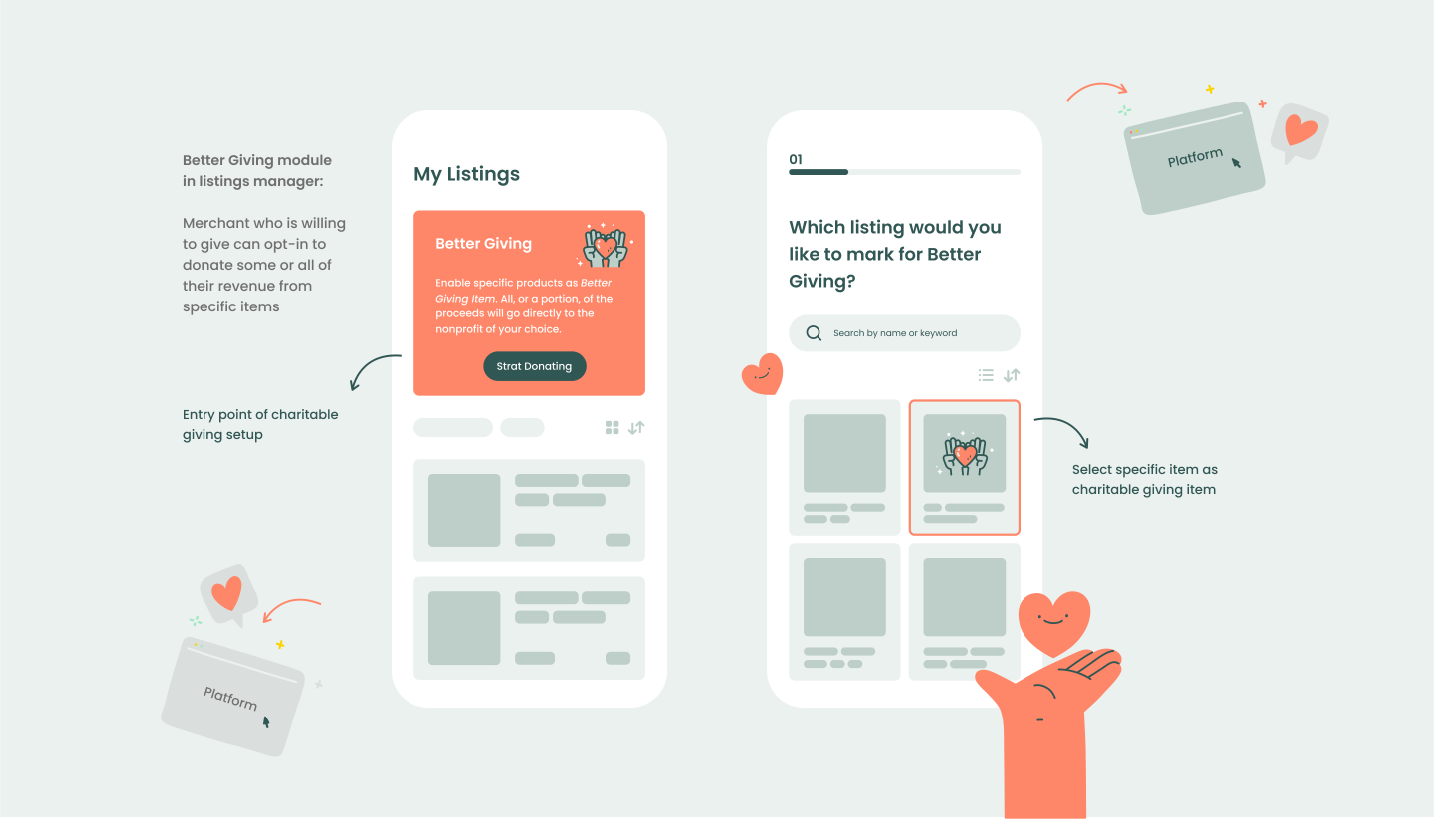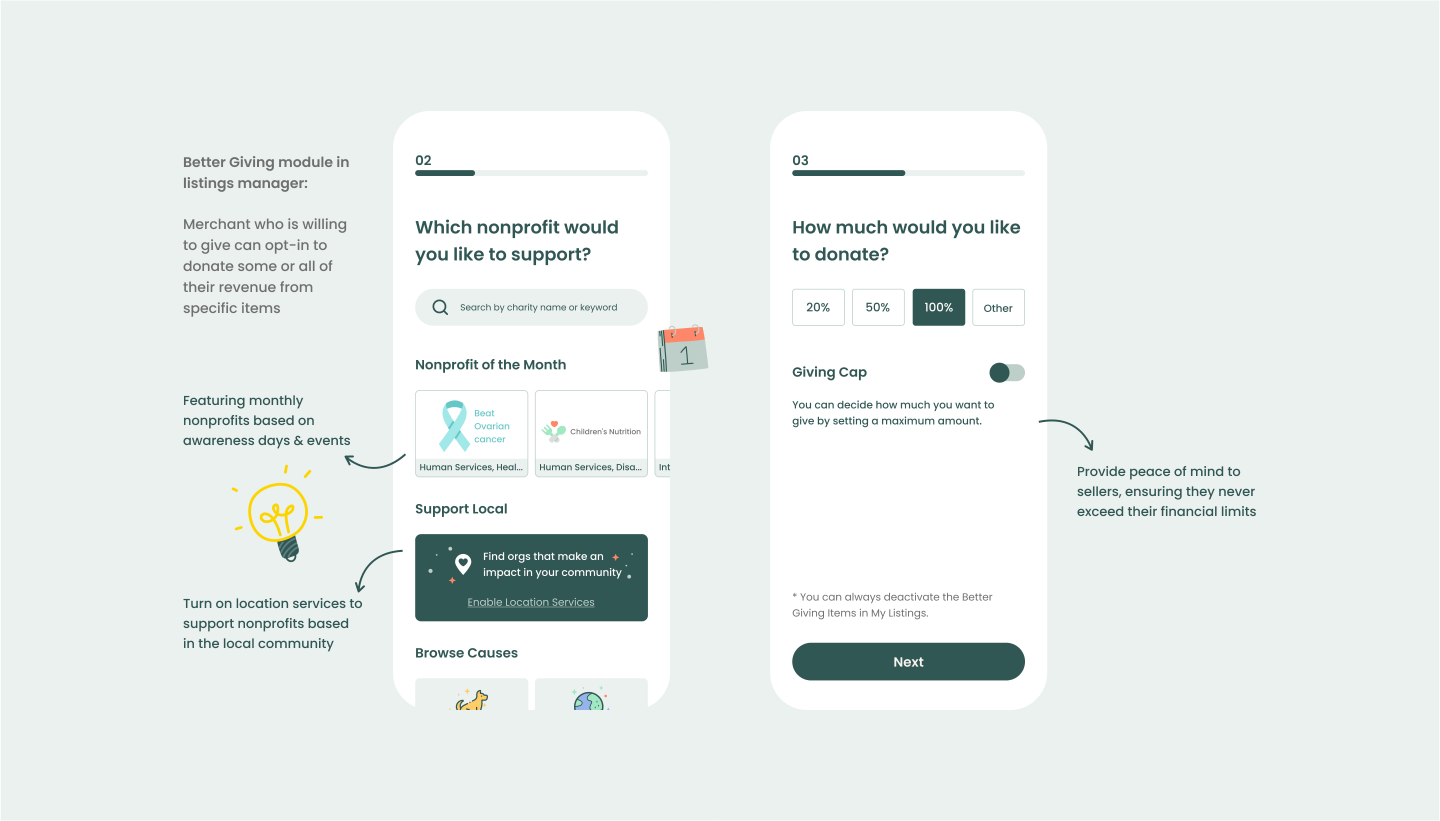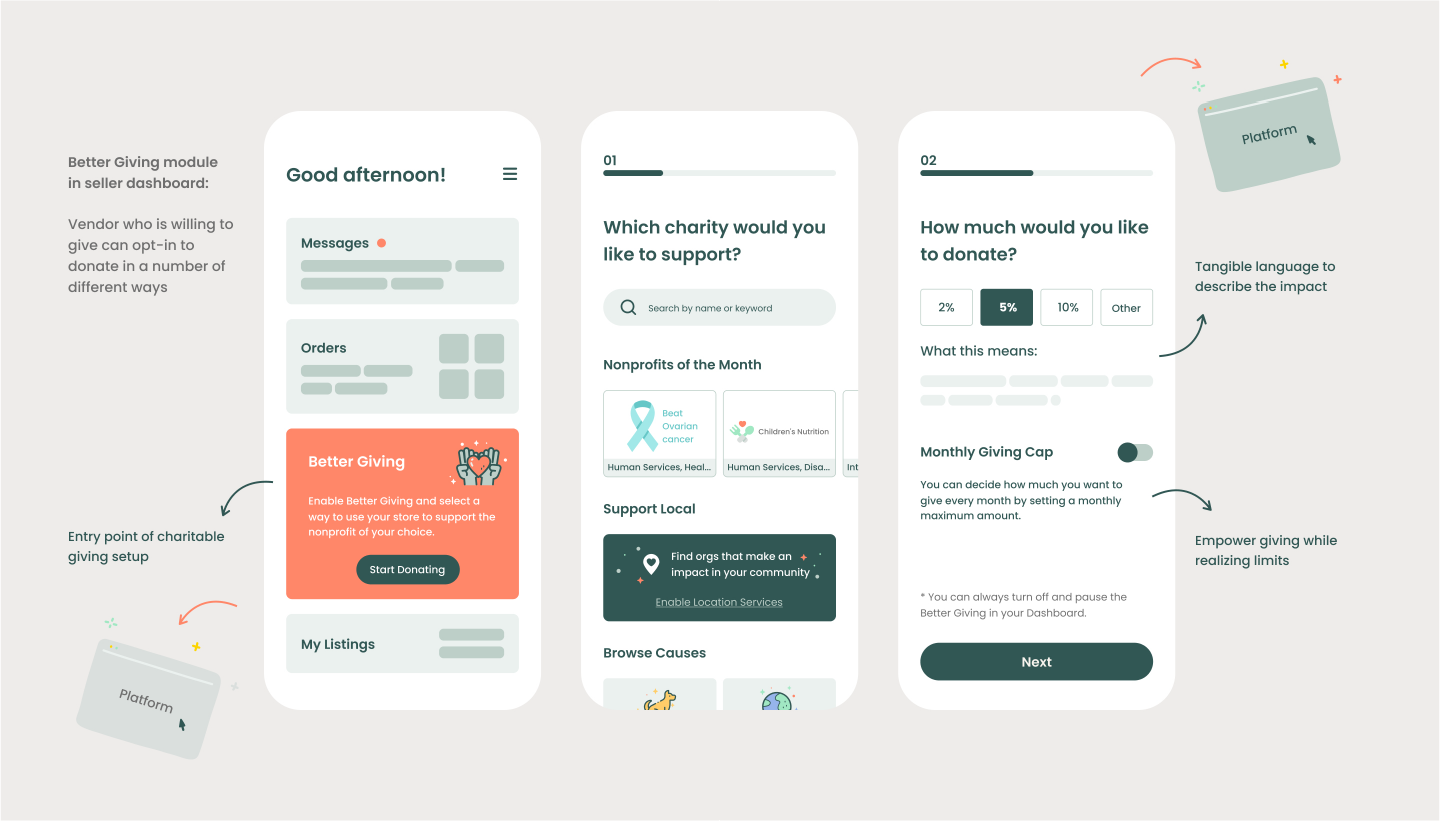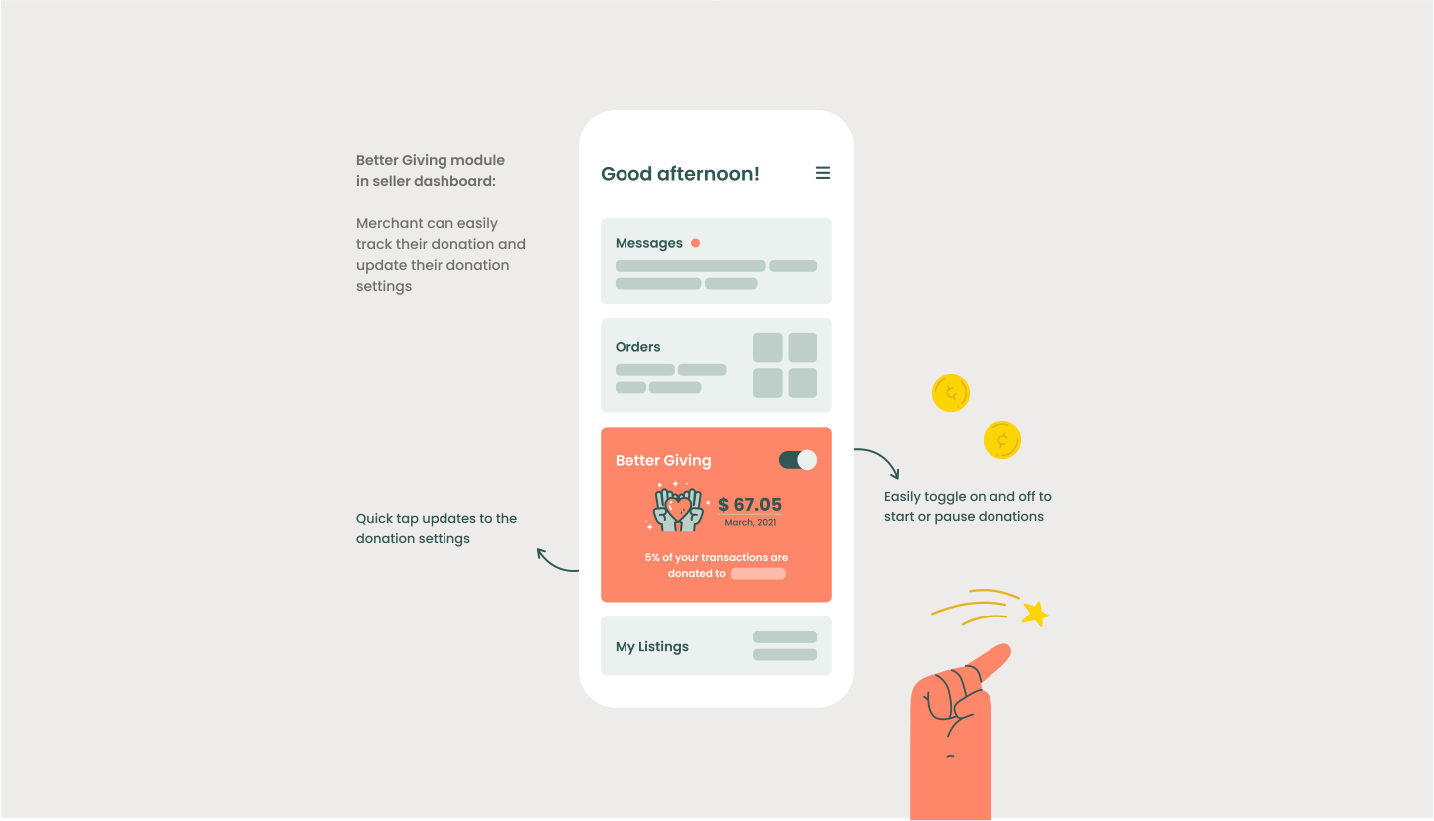 This concept is the result of a three-week validation sprint by an IDEO team with collaboration from ideas42, a nonprofit organization that uses behavioral science insights to address complex social problems. For more information about the context and background of this work, read this blog post.
Why BGS is Excited About This Concept
Because multi-sided marketplaces (think Etsy, Airbnb, Ebay, etc) are anchored in communities of physical proximity and / or shared interest, we hypothesize that both buyers and sellers would be interested in supporting similar causes and organizations if there was an easy way to enable such a feature
Some sellers already improvise their own ways of selling/renting for charitable causes, and some platforms — like Ebay & Airbnb — have already built a version of this feature
This improvisation and emerging feature are signals that participants in the marketplace desire an option like this and that implementing such a feature is quite possible to do
The Opportunity
The following is a representative user scenario based upon our IDEO team's interviews with real people:
Ana is one of thousands of artists who uploads her work onto a platform that sells, produces, and ships copies of her prints. In the wake of a wildfire in California, she feels inspired and uploads a new illustration specifically to raise money for relief efforts. Imagine if the platform clearly designated that item as supporting this cause, and proceeds from every transaction flowed automatically to a nonprofit Ana selected.
I wish there was a way to mark [one of my items] as 'for charity' and the money could be directly donated, so I didn't have to do it … Right now I do it all by hand myself.

Creator / Seller on a multi-sided marketplace
Multi-sided marketplaces like Etsy, Airbnb, Ebay, Skillshare, Facebook Marketplace, and more could give sellers the ability to donate some or all of their revenue from specific items or transactions. Money could flow seamlessly to nonprofits selected by the seller, and buyers could see a badge or icon that lets them know what their purchase is supporting.
Our IDEO research reveals a strong desire for this feature among sellers on three-sided marketplaces like Etsy and Airbnb. For some, that desire stems from the source of inspiration (ex: creating art inspired by Black Lives Matter protests). For others, raising money for a cause felt like a way to distinguish their offering or even just move excess inventory.
The Concept
Help platforms build a back-end integration that directs money from select transactions to nonprofits. Creators, renters, and vendors on the supply side of the marketplace could designate the cause they want to raise money for, and signal it clearly to potential buyers visiting their shop or listing.
Potential Challenges
Prioritizing the buildout and integration for partner platforms, considering it may not directly deliver against priority Key Performance Indicators (KPIs); as a result, additional incentives or assistance may need to be offered to platforms in order to help motivate them to invest in this feature
A significant effort may be required to "gatekeep" or "authenticate" nonprofits hoping to plug into this feature; the more inclusive this feature could be of small, local nonprofits, the more fulfilling an experience it is likely to be for users
Anything touching the logic is a ton of work. But if it happens off platform — for example, if a third party built it — this could be implemented today.

Large multi-sided marketplace representative
We're at an early enough scale, and our tech team is so talented that our technology platform is very capable and stable… for us the challenge isn't the capability of building a feature like this. Instead, it's getting the word out.

Small multi-sided marketplace representative
Larger platforms with more robust back-end systems will have larger feasibility hurdles when it comes to integrating a new feature like this. It would take more effort to bump it up the feature roadmap. Smaller, more agile platforms might have fewer resources, but there's also less red tape to navigate.
Setting aside a platform's ability to build such a feature, none of the platform representatives we spoke to in our research suggested a daunting technical challenge in integrating a feature created by a third party.
What Do You Think?
Are you working on something similar? Have feedback to give us or insights that we should know about related to this exploratory concept? We'd love to hear from you! Please write us a note at [email protected]