GiveTide
An app that lets users automatically donate the spare change on debit/credit card purchases to any nonprofit(s).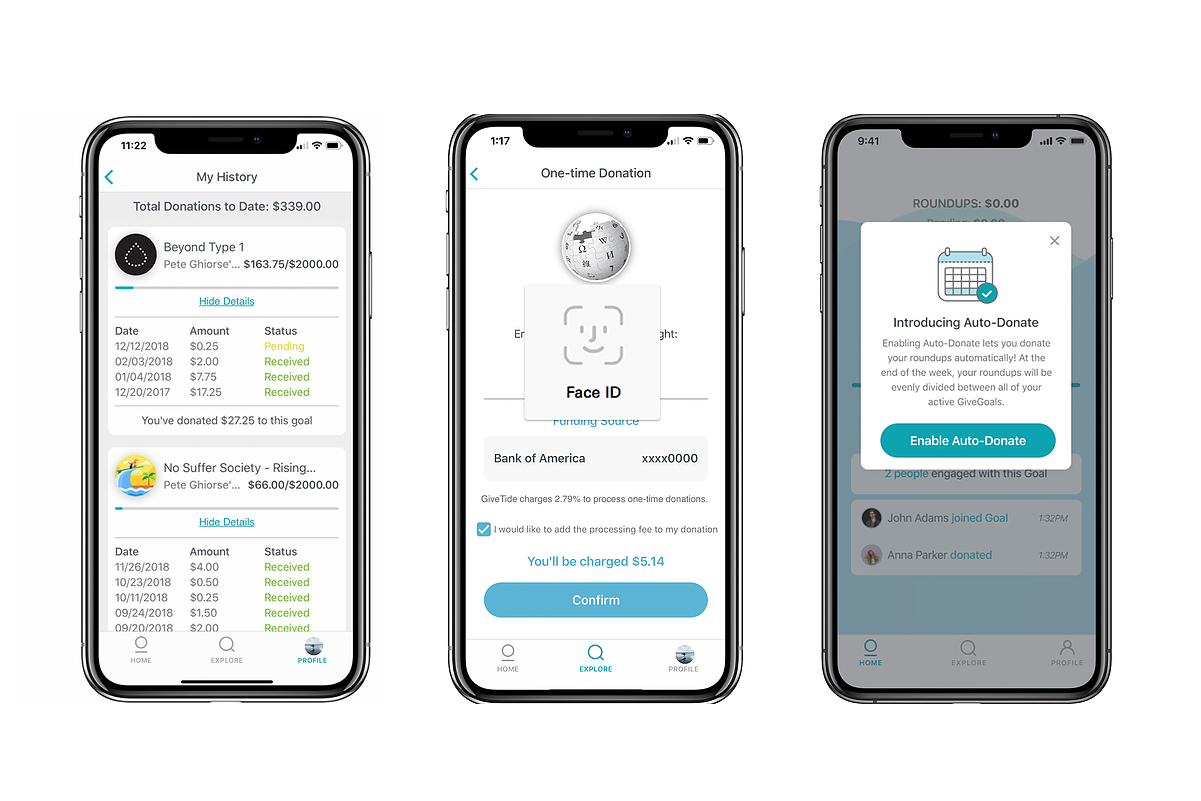 Better Giving Studio identified this concept through the 2020 Reimagine Charitable Giving Challenge, an open innovation component of the program which sourced nearly 400 digital giving products and concepts. The concept summary below is inspired by and derived from the Challenge entry submitted to the Challenge. 
Why BGS is Excited:
Peer-to-peer functionality makes small dollar giving collaborative, enabling new donors to connect around generosity.
The app is designed to simplify giving at every interaction. Users can set a weekly giving cap and sign-up for recurring weekly donations to chosen nonprofits.
The Opportunity
Many of the methods used by nonprofits are out of touch with modern fintech experiences. Mobile consumers demand a seamless and user-friendly experience from the apps on their phones. Anyone with a smartphone can purchase a television with a single tap or send cash to a friend using a product like Venmo. But donating to a nonprofit often involves navigating several steps on the nonprofit's website. And this process has to be repeated each time a donor gives to a different nonprofit. Come tax-time, donors are forced to manually search through their email inboxes to find their tax receipts. Meanwhile, many organizations don't have the resources to experiment with new fundraising solutions, so they stick with traditional fundraising solutions like direct mail, phone banking, and emails. These methods are expensive, and the average nonprofit spends at least 20 cents to raise every dollar. Other fundraising methods like AmazonSmile and Facebook Fundraising are convenient, but they withhold the donor data needed to build donor relationships.
The Concept
GiveTide is a mobile fundraising platform that connects mobile donors with nonprofits, large and small, by providing a consolidated place to track giving history using a mobile platform. According to Blackbaud Institute, 76% of millennials and 86% of Gen Z adults are willing to donate with a smartphone, and the 2020 Global Trends in Giving Report by Tech for Good shows that 66% of donors worldwide would use a mobile app that allows for "two-tap giving." The GiveTide app includes a roundup functionality where users can roundup the spare change from every debit/credit card purchase and donate it automatically (or manually) to one or more U.S. nonprofits. Donors can set a weekly cap on donations and give to as many organizations as they'd like. The app automatically catalogues giving history in one place for tracking and tax purposes.
GiveTide also features peer-to-peer fundraising, allowing donors to set individualized fundraising goals for any organization that they can then share with others, multiplying their impact.
Within the app, donors only have to input payment information one time before donating to any number of different organizations.
Nonprofits using GiveTide receive full access to donor data needed to steward donors and incorporate them into existing fundraising channels. GiveTide's theory of change centers around converting new donors into recurring donors for nonprofits using a palatable, small ask through donating spare change.
GiveTide's current users are 65% female and 35% male, with 70% under the age of 35. The average GiveTide user donates $22 per month, and 80% of that is in spare change. The primary users are women under 35 who are engaged with multiple causes but don't want to spend a lot of time on the payment aspect of charitable giving. They also typically make one-time donations of $50 or less. Of the 30% of GiveTide users who are older than 35, most are set up to automatically donate their spare change. However, about half of these users set up recurring monthly donations as well. The average one-time gift size is much larger with this cohort, with some users giving as much as $1000.
Surveys sent to the most active users indicate that the primary benefits they receive from GiveTide are convenience, automation, and the ability to offer support to multiple organizations.