Civic Champs
Civic Champs automates volunteer management for nonprofit organizations and converts their volunteers to donors.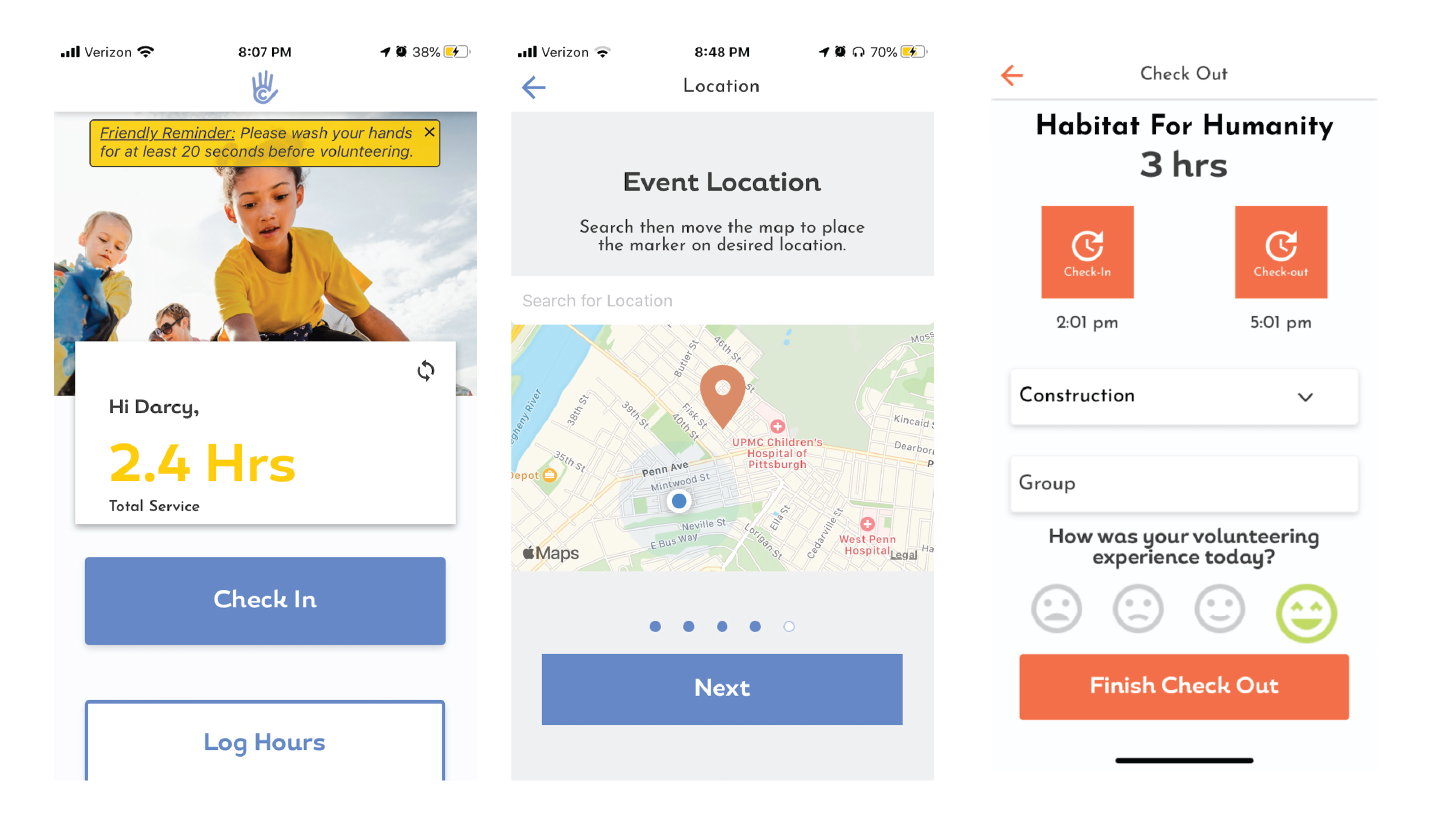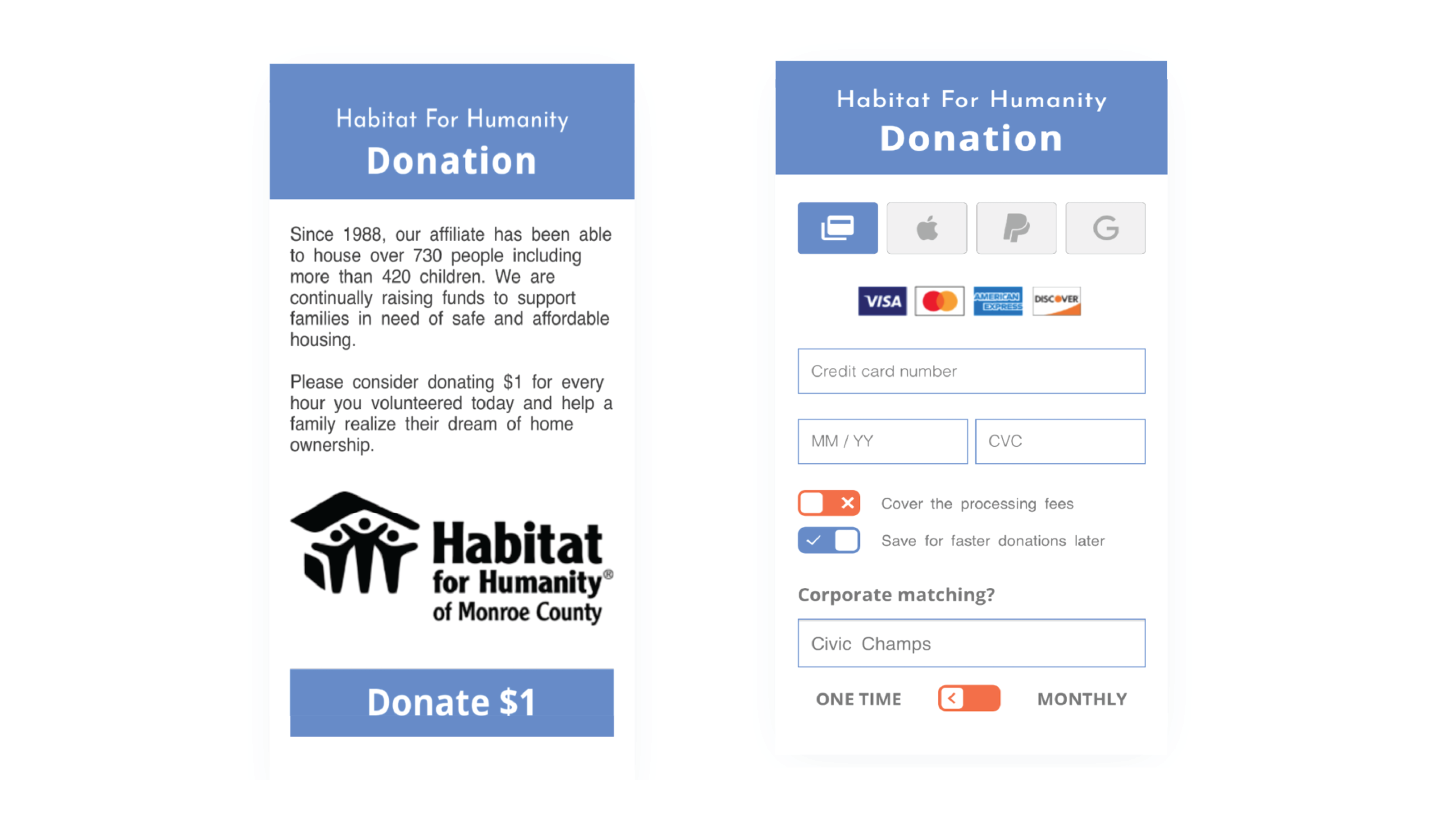 Better Giving Studio identified this concept through the 2020 Reimagine Charitable Giving Challenge, an open innovation component of the program which sourced nearly 400 digital giving products and concepts. The concept summary below is inspired by and derived from the Challenge entry submitted to the Challenge.
Why BGS is Excited About This Concept
Civic Champs converts volunteers to donors with effectively timed asks.
It centralizes functionality for nonprofits by providing tools to enable, manage, and track both volunteering and microdonations.
The Opportunity
As GenZ comes of age, nonprofit organizations will be challenged to find new ways to engage this generation, which has higher expectations for consumer experience. Traditional forms of donor and volunteer engagement, like phone calls and emails, need to be rethought to maintain volunteerism and giving rates. Additionally, COVID-19 has presented both a challenge and an opportunity for nonprofits in how they engage volunteers given new precautions around safety. A study by the Fidelity Charitable Gift Fund found that volunteers donate 10x more than non-volunteers. By automating volunteer management and helping nonprofit organizations convert their volunteers to donors, Civic Champs can help organizations who are looking for ways to do more with less.
The Concept
Civic Champs is a mobile-first platform that leverages technology like geofencing to automate volunteer management for nonprofit organizations. It enables GenZ, and donors of all ages, to volunteer more while building a habit of giving through small donations tied to their volunteering efforts. Its onboarding and scheduling tools allow volunteers to easily sign up for events and receive automated reminders. When a volunteer shows up on site, geofencing is used to automatically prompt them to check in using the app.
When a Civic Champs volunteer checks out for the day, instead of simply parting ways, the app asks them for quick feedback on their experience (a la Uber). If they had a very positive experience, that's the moment they're feeling most inspired by the mission of the organization. In that moment, the app sends a personalized solicitation for a small-dollar donation.
Sixty-seven percent of volunteers donate to the same organization they volunteered in. So soliciting those who are already aligned with the nonprofit organization will result in a greater likelihood of donations. Civic Champs' internal studies have shown upwards of 25% conversion rates for new donors.
These low-barrier micro-donations will also cultivate a habit of giving that organizations will benefit from for years to come. Further internal surveys and data show Civic Champs can decrease manual clerical work for volunteer coordinators by 85%, allowing them to reallocate that time to more deeply engage with their volunteers.
Civic Champs' current users are categorized into two groups. The first consists of nonprofit organizations that have volunteers and can benefit from a better volunteer management solution. Example clients include Habitat for Humanity, Humane Societies, and Boys & Girls Clubs.
The second group consists of volunteers, who range from mentors to food pantry volunteers to students looking to fulfill service learning requirements.
Civic Champs views volunteers as customers rather than resources, so they aim to create delightful experiences so nonprofits can more easily recruit, retain, and convert volunteers. Their micro-donations feature is a first-to-market innovation, which can greatly expand a nonprofit donor base (particularly younger donors) in an automated fashion.